Attending the users suggestions, the Demands option has been created.
Demands shows you the references that other companies need and they couldn't find it in their searches.
This way, any BearingStocks user that have that reference, (with a single click) can send him an e-mail with a quotation.
Demand duration: The demand is deleted 30 days after its creation. The company that has introduced it can delete it any time.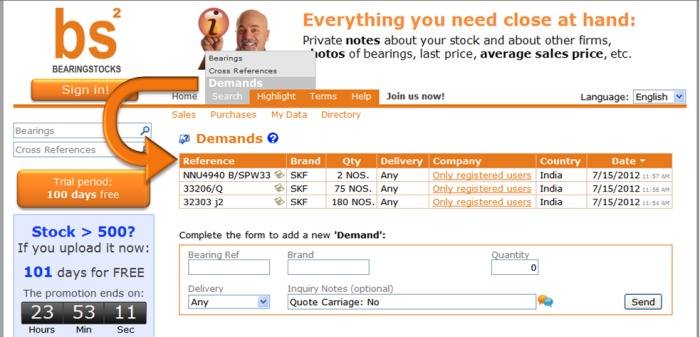 Notes:
New demands are sent by email every 7 days to Bearingstocks users
When a company uploads a stock with your demand, you will get an email.
Only PREMIUM Companies have access to the requesting company contact details. (To be a PREMIUM dealer you have to upload a stock with more than 500 references or place 3 orders through the web.)
If you don't want to receive the Demands e-mail, you can disable it here: Yes (summary of Demands)